GV1| BenQ Portable Projector with Wi-Fi and Bluetooth Speaker
Delivery usually within 48 hours
Quick Overview:
Palm-sized design with convenient tilt hinge and auto keystone correction

Wire-free connectivity with dual-band Wi-Fi (2.4G/5G) and direct hotspot

Portable Bluetooth speaker mode with built-in 5-watt chambered audio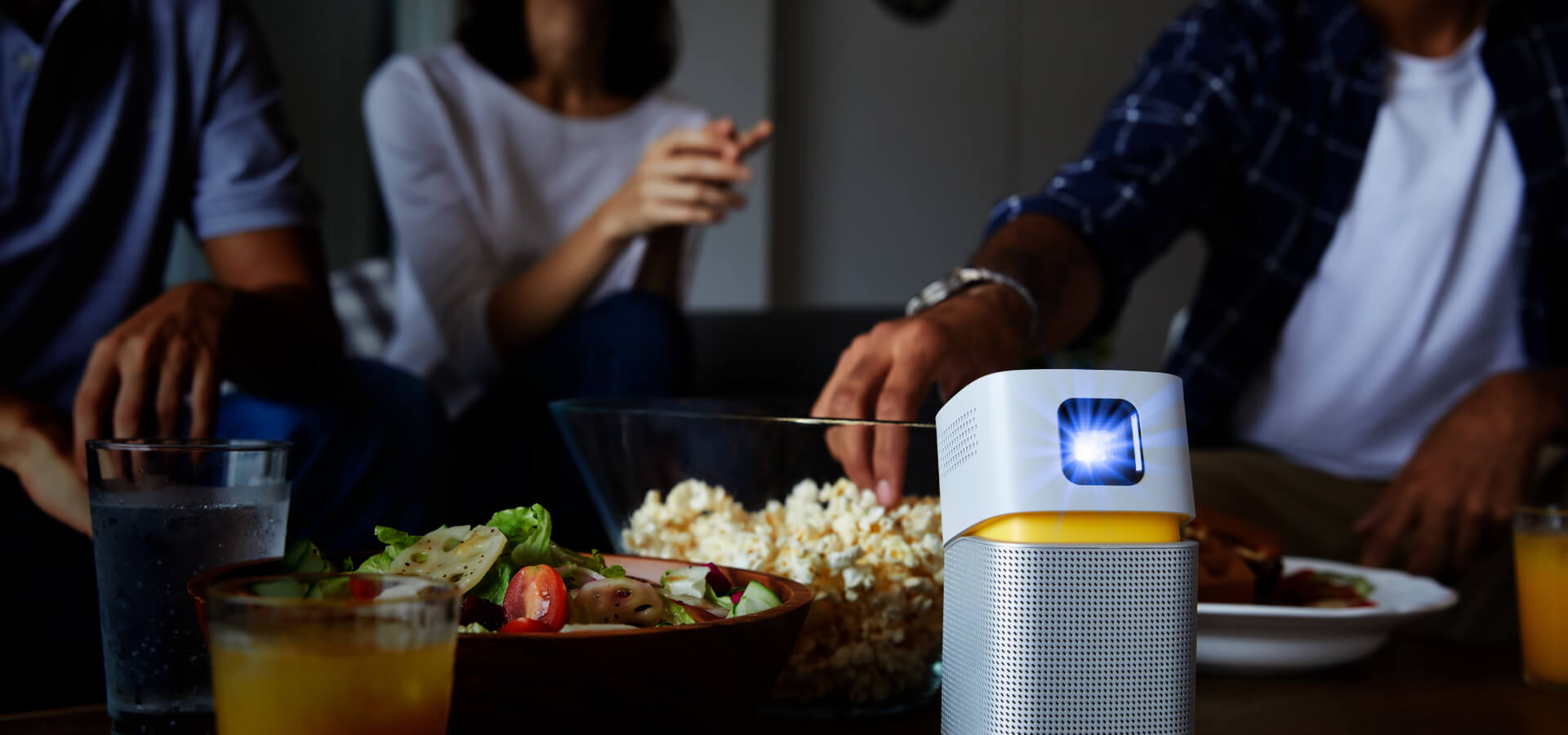 Entertainment That Goes Wherever You Go
Light up your get togethers, work and play spaces, or wherever you go with BenQ GV1 ultraportable battery projector. Simply designed for totally wire-free fun, GV1 instantly streams movies, videos, music and more with latest WiFi, Bluetooth, and USB-CTMconnectivity.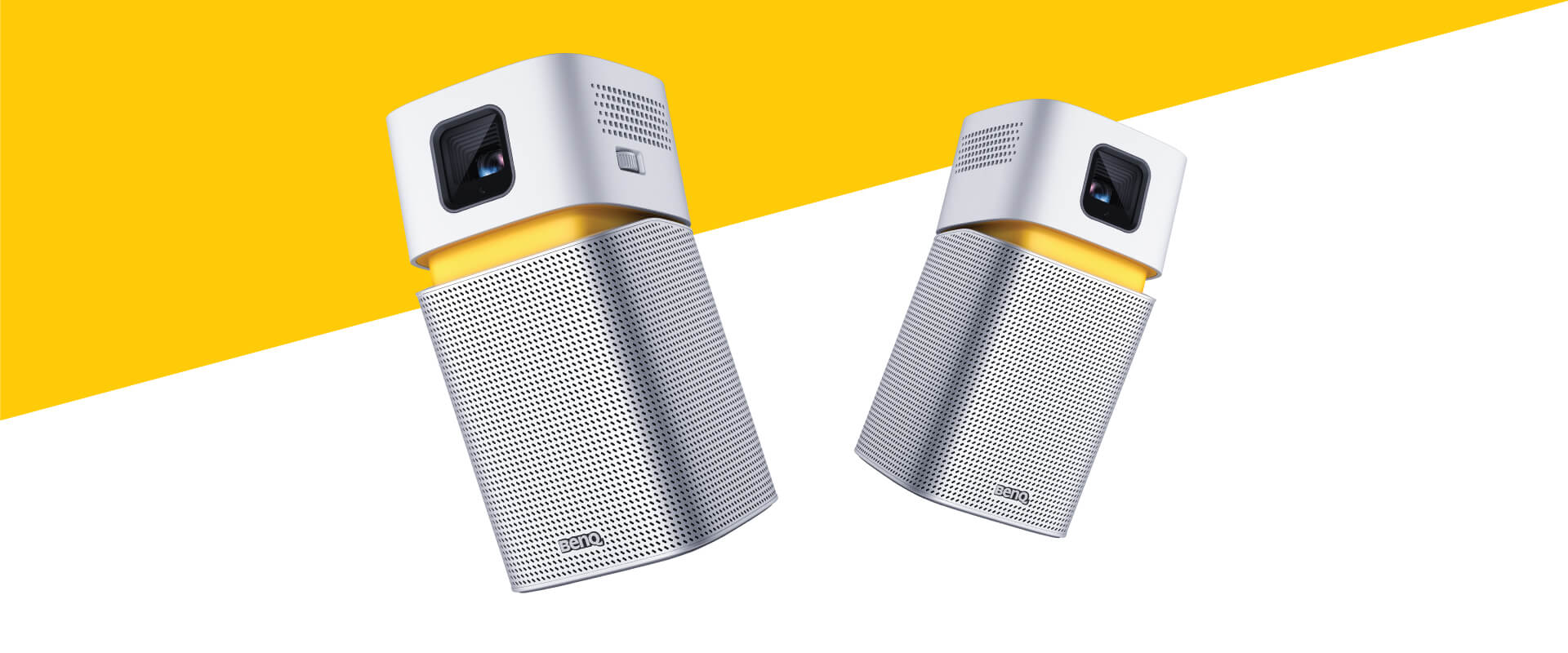 Your Entertainment Your Way
GV1 frees you from setup hassles, poor wireless connections, and cumbersome cables to
just start enjoying videos, social media, music and games. Whether you're hanging with friends,
cooking for family, or even working out, GV1 simply fits your life.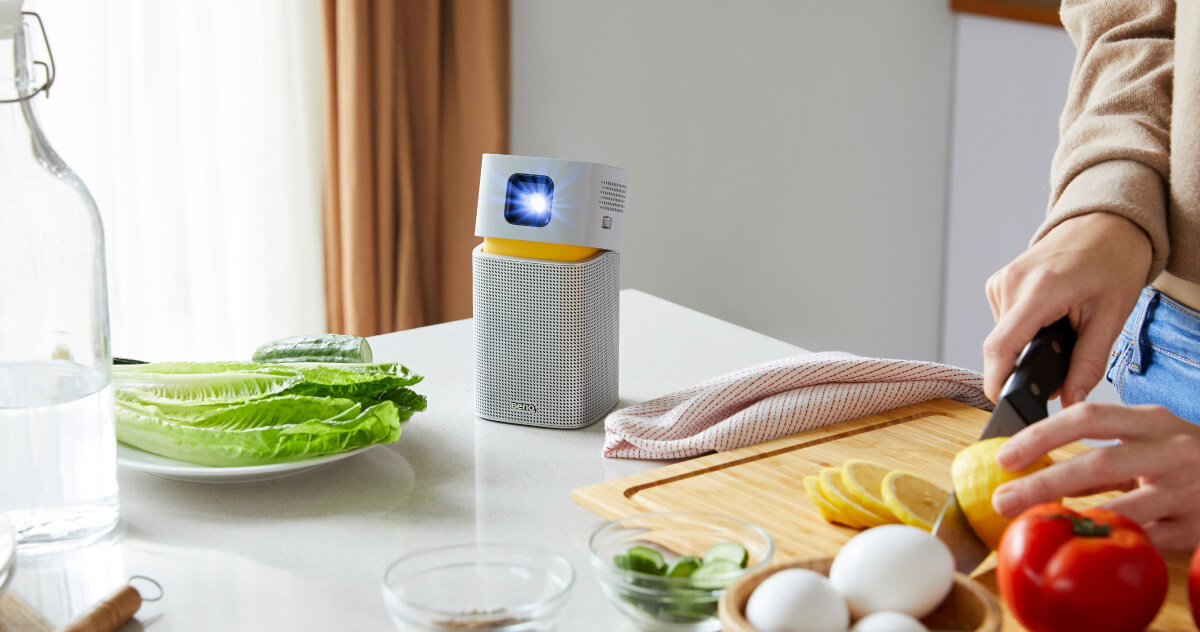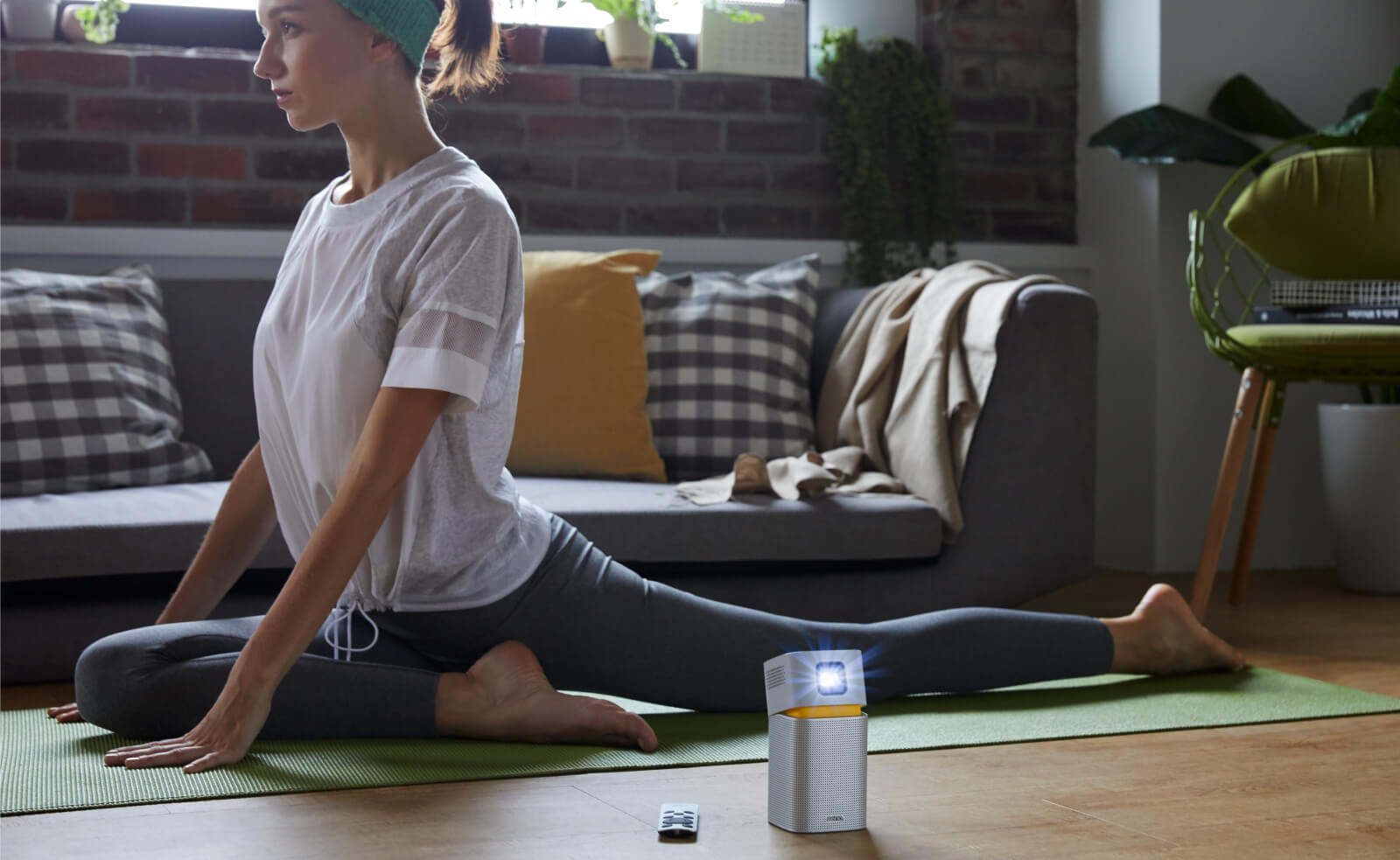 A convenient tilting hinge lets GV1's high-mounted lens produce 100" images anywhere, and its auto keystone feature keeps the picture perfectly squared.

GV1 weighs only 708g(1.6 lbs) and is about the size of a coffee cup or water bottle, letting you enjoy big-screen mobile entertainment anywhere.

GV1's do-it-all USB-CTM port can stream media and charge your mobile device or even play media files from a flash drive.

Wire-free connectivity with dual-band 2.4G/5G Wi-Fi and direct hotspot simply work without wires for your mobile wireless projection.

Robust 5-watt chambered audio turns GV1 into a portable Bluetooth speaker.

GV1 comes with a rechargeable battery good for 3 hours of uninterrupted enjoyment, totally without wires.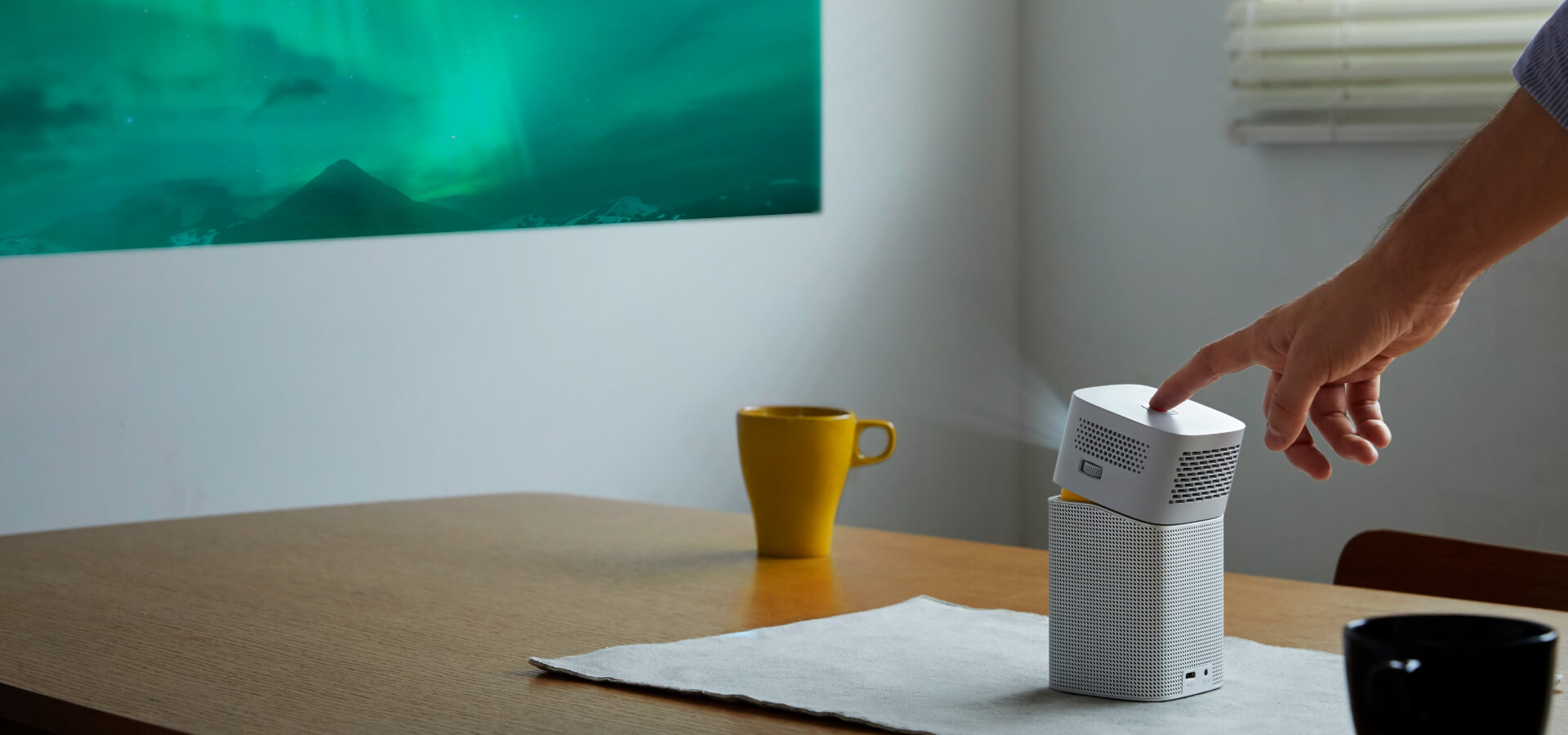 Simple Setup in Seconds
GV1 includes a convenient tilting hinge at its neck, letting you project the big picture at the perfect height to view comfortably. Its 15˚ range means that the 100" projected image can be raised up to 77cm(Max.) above the level where GV1 is placed.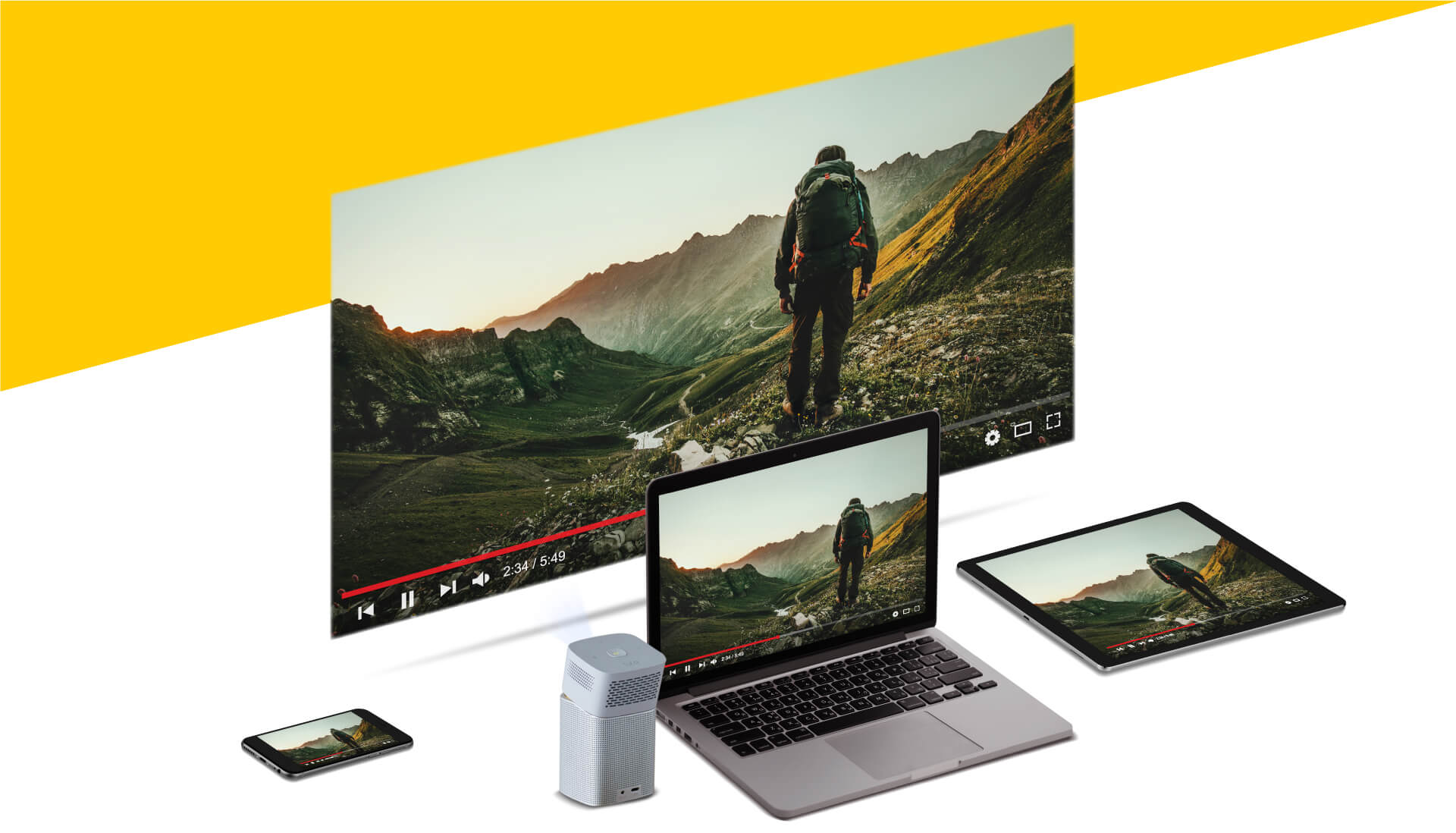 Wire-Free via WiFi, Bluetooth or by Itself


GV1 streams videos, games, or music via dual-band Wi-Fi and
Bluetooth from your mobile,
PC and laptop devices, making it trulycable-free. Even when there's no signal,
it has its own Wi-Fi hotspot to stream wirelessly from your device's local storage.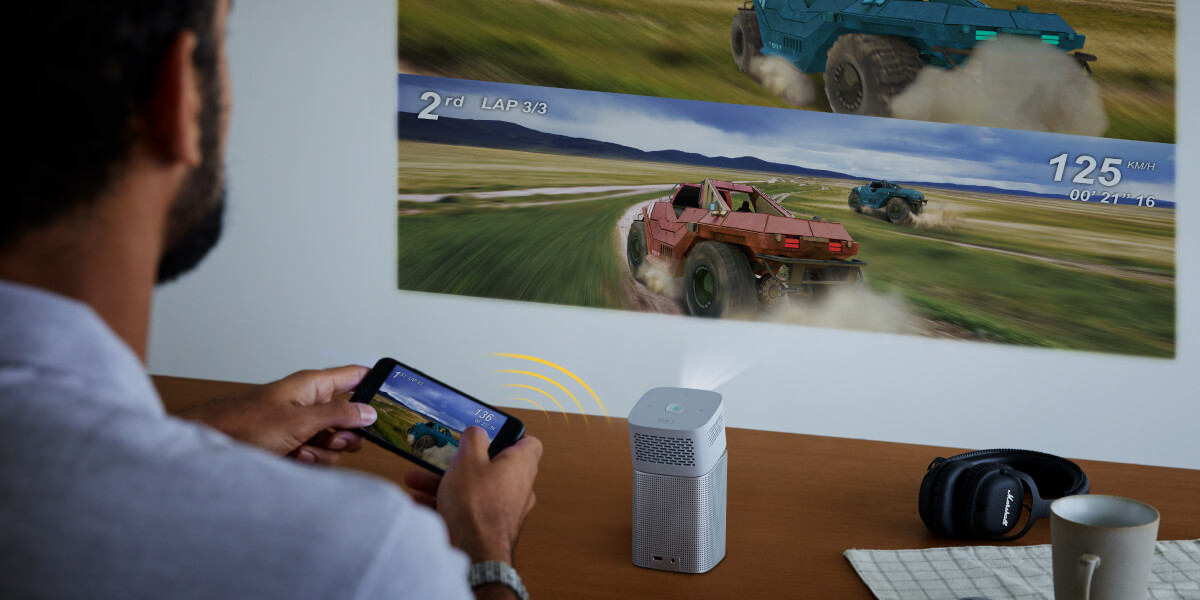 USB-CTM for the Latest Smart Devices
With the latest phones, tablets and laptops switching to USB-C, you can also connect to GV1's single USB-C port.
This handy port can also simultaneously charge your device or play videos and music from a USB flash drive.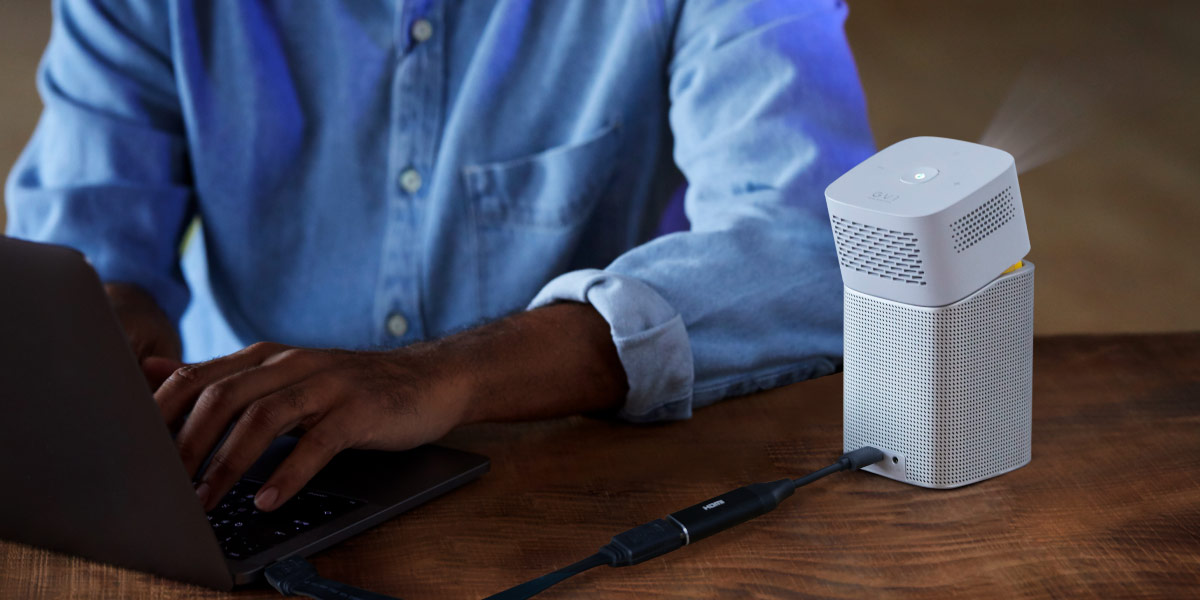 Using DisplayPort over USB-C, GV1 can stream videos, games and music from smart devices.

GV1's USB-C port is also a media reader that can play movies, videos and music directly from a USB flash drive**.

GV1 supplies power* to your mobile device, which means it can charge your device while you're enjoying your streaming media.
*Power supplying is only available when GV1 power adapter is plugged in.
** USB Type-A to Type-C adapters can be used to increase flexibility to read any USB drive.
3-Hour Battery Life for Binge Watching
GV1's 3-hour battery life gives you plenty of time to enjoy full-length feature films with friends and family,
catch up on your favorite shows, tune in to the big game, or even play one yourself on the big screen.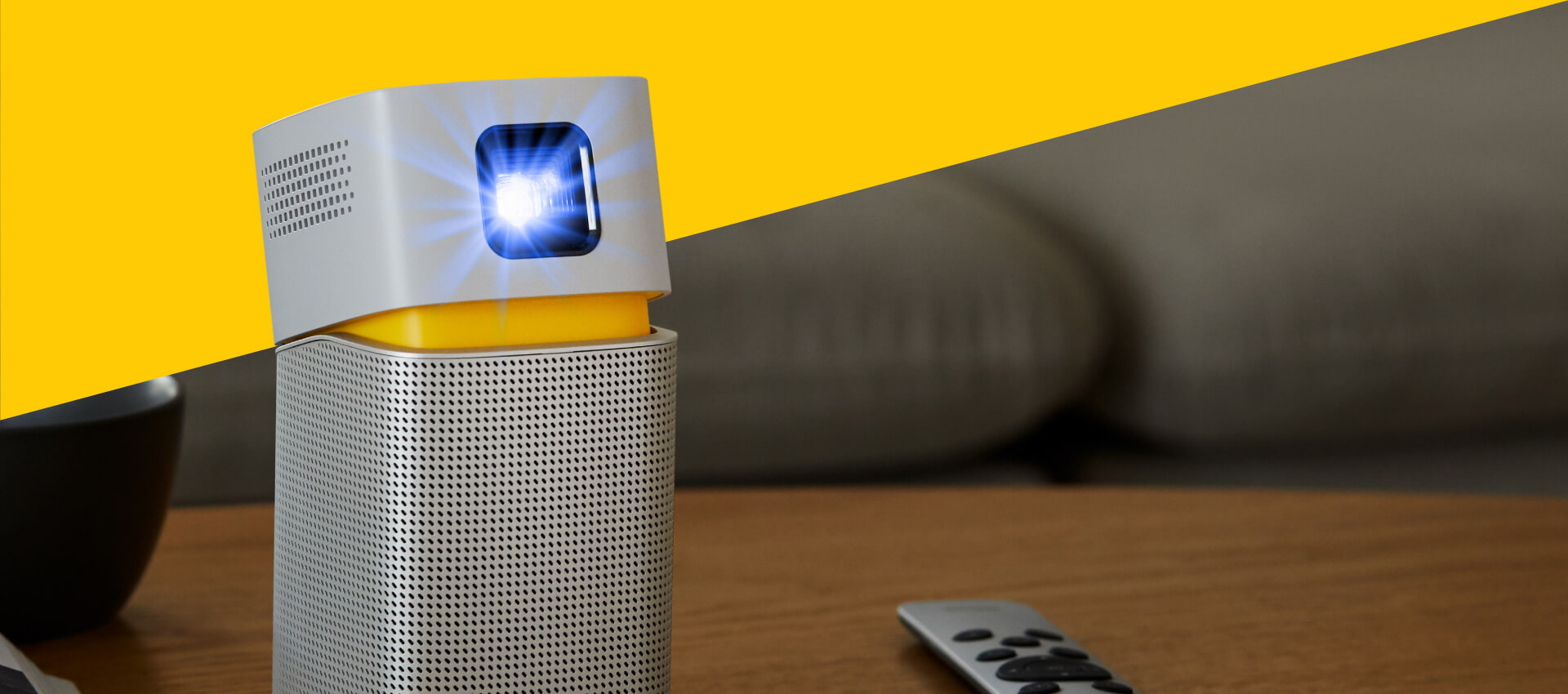 Main Specifications
All Specifications
Display
Native Aspect Ratio
Native 16:9 (5 aspect ratio selectable)

Light Source Life (NArmal/Eco/SmartEco)*
20,000/30,000 hrs (Normal/Eco)

Optical
Keystone Adjustment
1D, Vertical ± 40 degrees

Projection Size (Clear Focus / Maximum)
SoC
IC
Qualcomm Snapdragon 210 MSM8909

Internet
WLAN
IEEE 802.11 a/b/g/n, 2.4G/5G

Audio
Special Feature
Feature
Wireless Projection (for iOS/macOS, for Android™, for PC), USB-C™ DisplayPort and Reader, 15∘Tiling Lens and Auto Keystone, 3 Hours Battery, Bluetooth Speaker

Compatibility
Resolution Support
VGA(640 x 480) to Full HD(1920 x 1080)

Power
Typical Power Consumption
24W(Max)/ 16.7W(Typical)/ 13.1W(Battery)/ 0.5W(Standby)

Standby Power Consumption
0.5W Max. at 100 ~ 240VAC

Dimension and Weight
Operation Condition
Accessories (Standard)
Plug set (depends on SKU)
USB-C™ wire (for DP alt mode and data transfer)
Remote Control w/ Battery (RC model name)
Warranty Card (by region)
OSD
Language
Arabic/ English/ French/ German/ Hindi/ Japanese/ Korean/ Portuguese/ Simplified Chinese/ Spanish/ Traditional Chinese (11 Languages)

*LED lamp life results will vary depending on environmental conditions and usage. Actual product's features and specifications are subject to change without notice.