GW2480T / Stylish Eye-care Monitor
Delivery usually within 48 hours
Monitor Matters!
Digital learning is an inevitable trend. Children at an early age, especially middle school students, spend more time on laptops or tablets with a short viewing distance or in dim light. These are the main reasons that cause short-sightedness. Though laptops and tablets are convenient and highly portable, they are not suitable for doing research or creating content because a small-sized display is bad for eyes and bone growth.
The GW2480T can solve these problems and do even more to enhance learning. Students can concentrate more on their studies and have better learning efficiency without feeling eye strain or potentially developing myopia.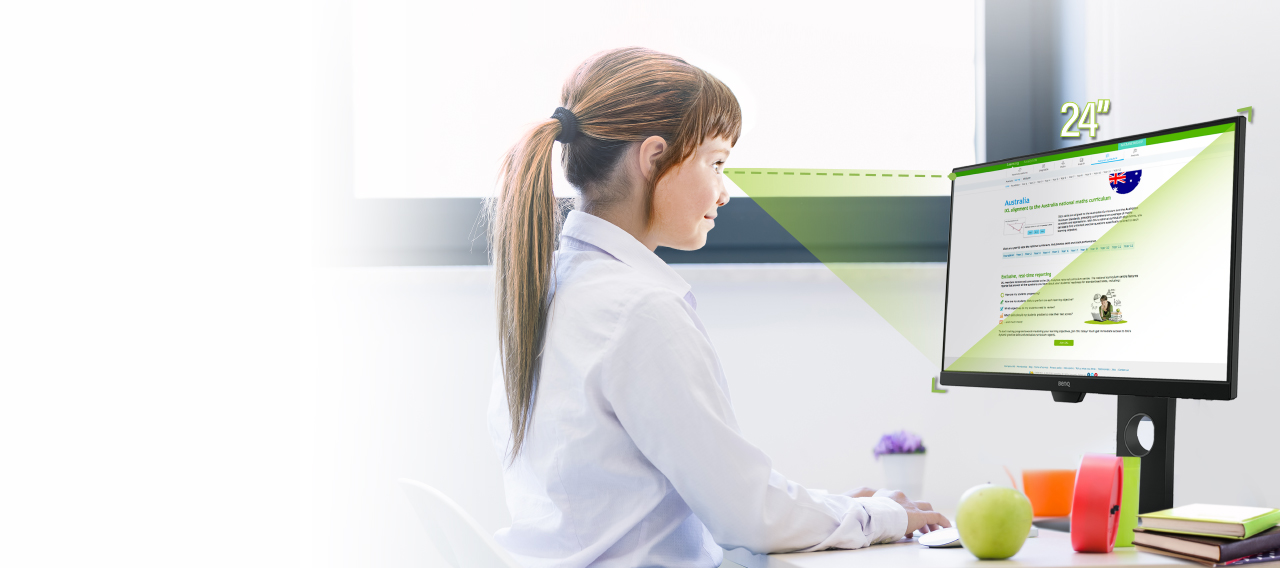 حافظ على المسافة المناسبة من الشاشة
A persons average eye blink rate is about 15-20 times per minute, which can decline to a half due to prolonged strain on the eyes, which causes tears to evaporate very quickly resulting in dry spots, blurred vision and pain. You could follow the 20-20 rule, and every 20 minutes that you're on a computer or a mobile device, look away from the computer at an object at 20 feet away or further for 20 seconds or more. And that will let those eye muscles relax.
يؤدي التحديق في الشاشة لفترات طويلة إلى إجبار عضلات العين الهدبية على الحفاظ على التركيز في مكان محدد، مما يؤدي إلى التسبب في إجهاد العين أو مشاكل الرؤية الأخرى.
تقدر مسافة الرؤية الموصى بها بين العينين والشاشة من 60 سم إلى 70 سم. تعد الشاشة مقاس 24 بوصة من طراز GW2480T مثالية للطلاب للاستمتاع بتجربة مشاهدة مريحة.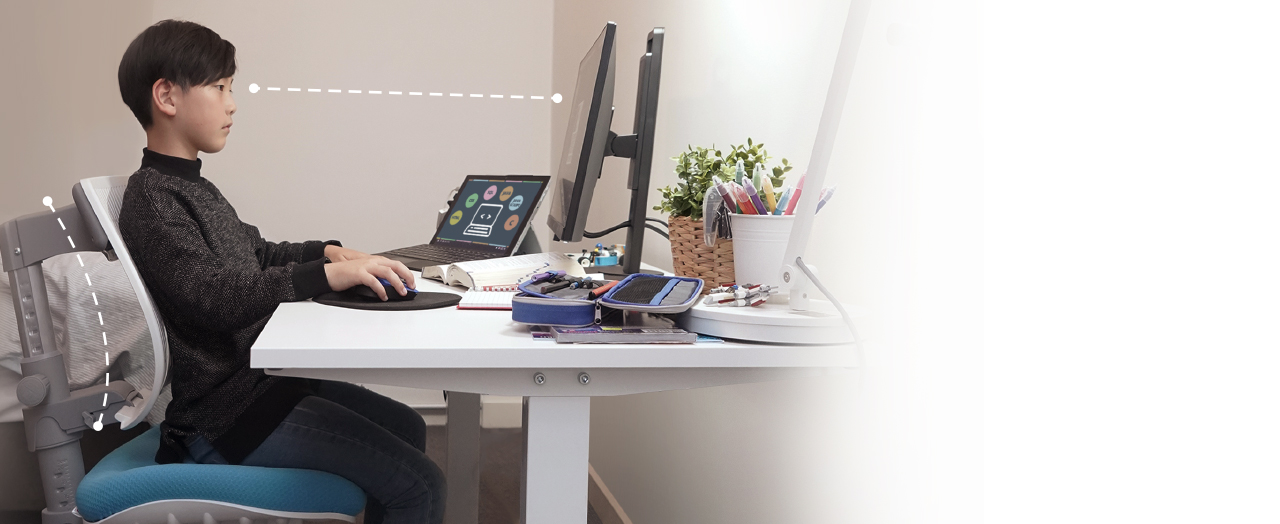 Study with the Correct Seating Position
Children grow fast, but laptops and tablets won't grow with them. Studying with improper posture could result in vision problems as well as affect children's bone growth.
The GW2480T with an ergonomic design that can be customized for height, tilt, pivot, and swivel makes it fit better with different stages of growth.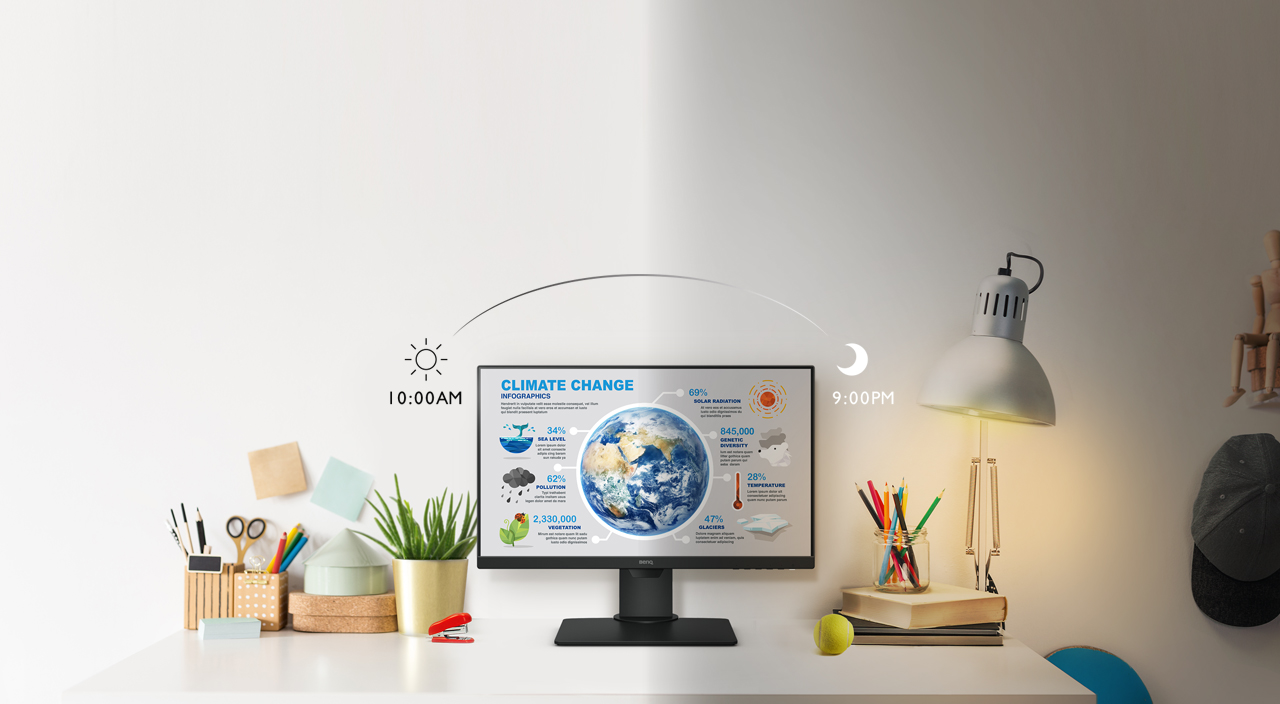 Study with the Proper Display Brightness
Most of students don't manually adjust the display brightness according to the ambient light every day. This might result in eye fatigue, vision problems, and even headaches when they go home and continue to study after a long day.
BenQ's unique Brightness Intelligence Technology (B.I. Tech.) can automatically adjust the monitor's brightness according to the ambient light, so that students can focus on computer programming or coding instead of spending time dealing with the complicated monitor settings.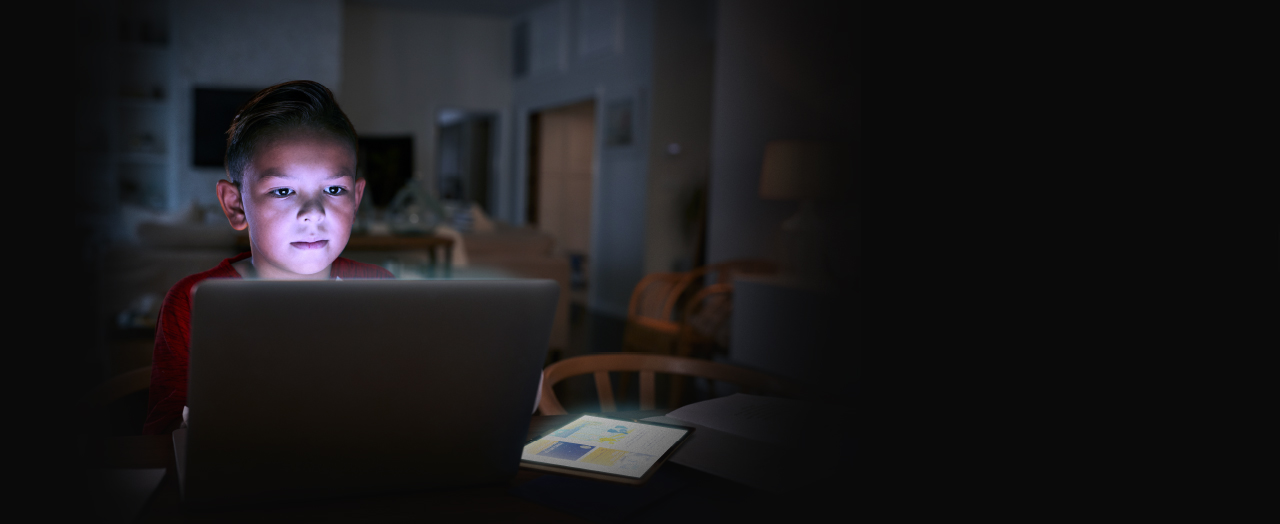 Reduce Blue Light Exposure for Better Sleep Quality
The blue light emitted from digital devices can lower the production of melatonin. This disrupts students' sleep quality, which is closely related to their learning efficiency at school the next day.
The GW2480T with Low Blue Light Technology filters out harmful blue light for both good sleep quality and eye health.

Flicker-Free Makes for Better Viewing Comfort
After studying for a long day, students' eyes have already been exhausted, but they still have homework to complete. Screen flickering can put extra stress on their eyes, especially laptop screens, causing excessive blinking and frequent rubbing of the eyes.
The GW2480T with Flicker-Free Technology can effectively diminish eye fatigue and irritation for better viewing comfort and studying efficiency.

Study with Real Color
Scientific research shows that congenital color vision deficiency affects 8% of males and 0.5% of females. For children who like creating art, color weakness might likely affect their color recognition and interest in art learning.
The GW2480T with a Color Weakness Mode can help this group of students feel the joy of color and see the true colors of this world!

Parents and Children Enjoy Learning Together
Most parents are willing to accompany their children through their learning process. The GW2480T with a wide viewing angle makes it easier for both parents and children to enjoy the fun of learning together.

Easily Connect to Laptops for Better Viewing Comfort
Connecting to a laptop is simple. The GW2480T offers three connection ports, including HDMI, DisplayPort, and D-sub for students to have better viewing comfort when studying or coding.


TÜV Rheinland Certification
BenQ Eye-Care Monitors are certified by TUV Rheinland, a global leader in technical and safety certification, for Flicker-Free and Low Blue Light performance that truly benefits human vision. As the first brand of Eye-Care monitors in the world, BenQ is committed to safeguarding vision health at the forefront of viewing comfort and enjoyment with this permanent addition to its monitor product line.

Main Specifications
All Specifications
Display
Backlight Technology
LED backlight
Resolution (max.)
1920x1080
Viewing Angle (L/R) (CR>=10)
178/178
Picture Mode
Color Weakness ,ECO ,Game ,Low Blue Light ,Movie ,Photo ,Standard ,User
Display Colors
16.7 million color
Display Screen Coating
Anti-Glare
Color Temperature
Bluish ,Normal ,Reddish ,User Define
OSD Language
Arabic,Chinese (simplified),Chinese (traditional),Czech,Deutsch,English,French,Hungarian,Italian,Japanese,Netherlands,Polish,Portuguese,Romanian,Russian,Serbo-Croatian,Spanish,Swedish
Viewing Angle (L/R;U/D) (CR>=10)
DCR (Dynamic Contrast Ratio) (typ.)
Audio
Power
Power Consumption (sleep mode)
<0.5W
Power Consumption (on mode.)
Power Consumption (based on Energy Star)
Dimension and Weight
Swivel (left/right)
45˚/ 45˚
Height Adjustment Stand
140mm
Dimensions (HxWxD) (mm)
Highest: 528x540x231 ; Lowest: 428x540x231
Dimensions (HxWxD) (inch)
Highest: 20.8x21.3x9.1 ; Lowest: 16.9x21.3x9.1
Dimensions (HxWxD) (w/o Base) (mm)
340x540x50
Dimensions (HxWxD) (w/o Base) (inch)
13.4x21.3x1.9
Net Weight (w/o Base) (kg)<