EH600 Wireless Android-based Smart Projector for Business | 3500lm, 1080P
Delivery usually within 48 hours
Wireless Android-based Smart Projector for Business | 3500lm,1080P
Convenience made easier through wireless connections, built-in business apps, and over-the-air firmware updates.
Wireless projection & mirroring capabilities across various platforms (Mac/iOS, Android, or PC) for simple and easy presentations.
Wireless projector with internet connectivity and USB reading to easily show your ideas during huddle sessions.
Smart Projector for Smarter Business
Smart Enterprise Knows Smarter Projectors
Start Remote Meetings in a Blink and Adopt a Laptop-Free Solution for Envisioning the Next Normal

EH600 can instantly turn any space into a video conferencing room without costing a fortune

Grants employees' access to their personal cloud storage for meeting materials, enabling them to prepare for and hold meetings without laptops

Exclusive driver-free wireless projection. And compatible with any device, allowing users connect and get started immediately

EH600's proprietary broadcasting system lets administrators send customized messages, such as a polite notification that meeting time is almost up, to facilitate smooth transitions between meetings
See How Smart Projectors Benefit Your Meetings
Built-in video conferencing app
Software / hardware integration for starting remote meetings immediately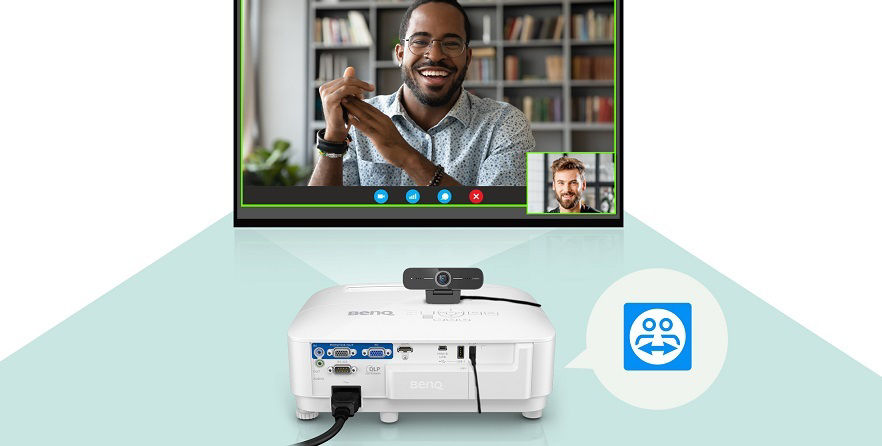 EH600 comes embedded with TeamViewer Meeting video conferencing software that makes remote meetings straightforward and thrifty. As long as a camera is available, users can enjoy remote meetings on a large screen that makes it possible to see all participants and meeting materials clearly – an experience no other device can offer.
Cloud service enables personal file access without a laptop
AMS integrates most popular cloud services (Google Drive, OneDrive, and Dropbox) in one convenient interface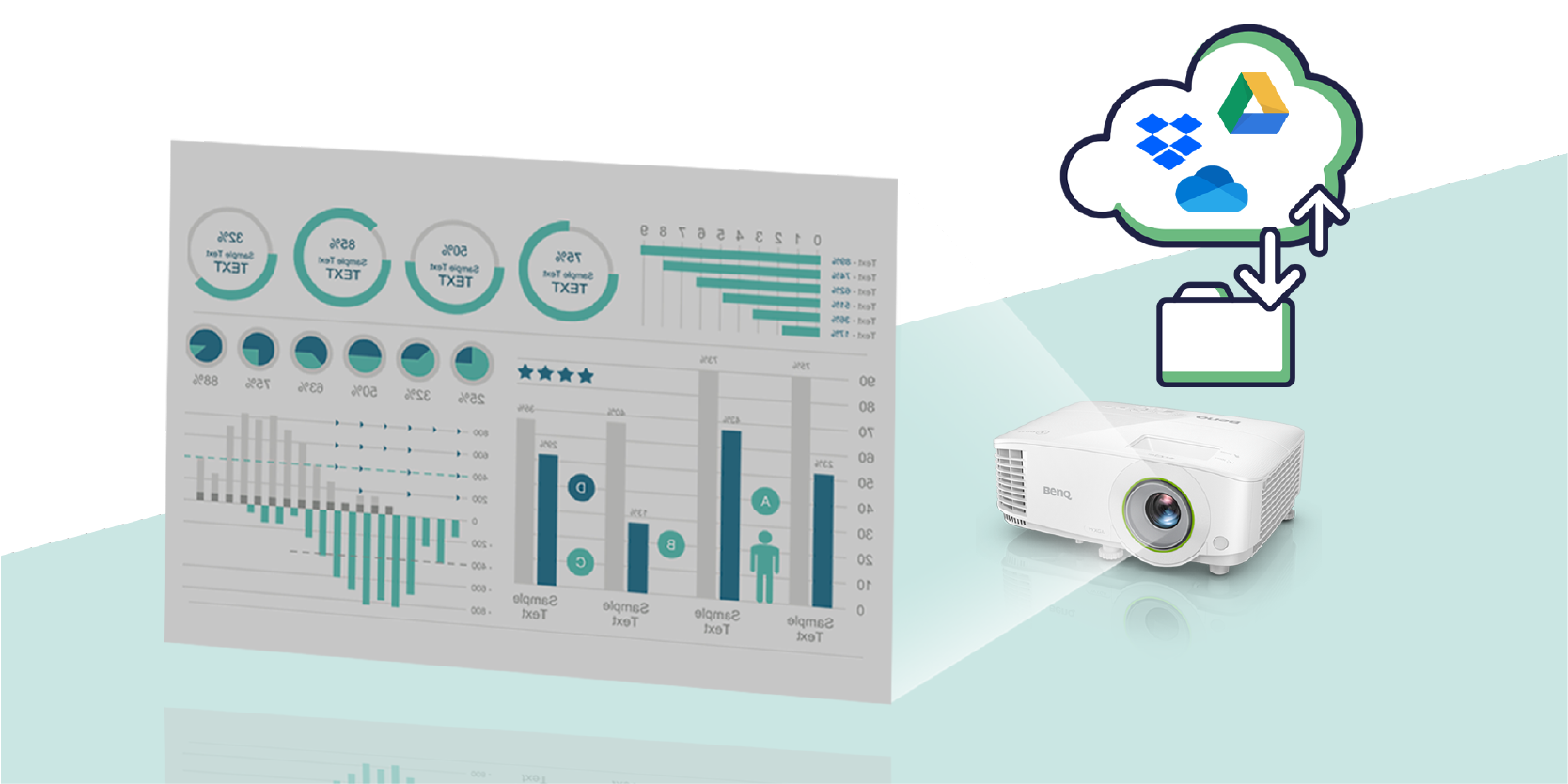 AMS (Account Management Service) can sync with popular cloud storage services like Google Drive, OneDrive, and Dropbox. With just one AMS account, you can manage all your data and materials. AMS is embedded in EH600, offering direct access to the cloud without need for a laptop. Furthermore, EH600 comes with WPS software that lets users open and edit Microsoft Office files.
*Wireless mouse and keyboard may bring better user experience
Intuitive driver-free wireless projection
Just connect and project
BenQ wireless projection offers a unique advantage over competitors, letting users mirror the screens of devices connected to the same network as the projector. This feature supports many OSes and device types. It is also compatible to connect the mobile devices which meet WPA2 standard, guaranteeing information security by safeguarding against data theft during data transmission.
X-Sign Broadcast for instant announcements without Interruptions
Customizable centrally controlled digital message broadcasting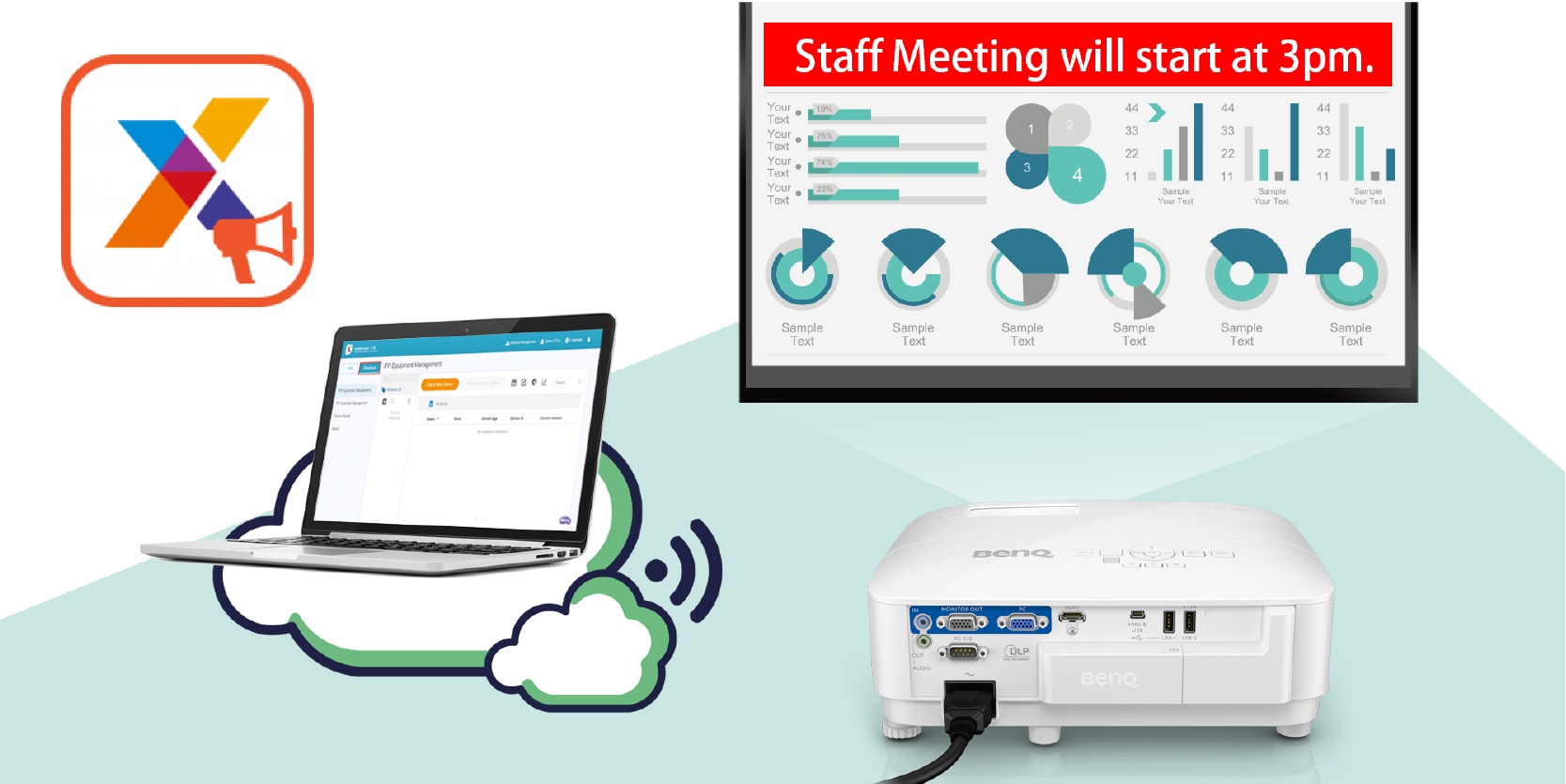 X-Sign Broadcast can send customized messages from laptops, desktops, and smart devices to a designated projector, ensuring all meeting participants can see important reminders. X-Sign Broadcast also lets personnel schedule messages in advance as needed.
Innovative Applications of EH600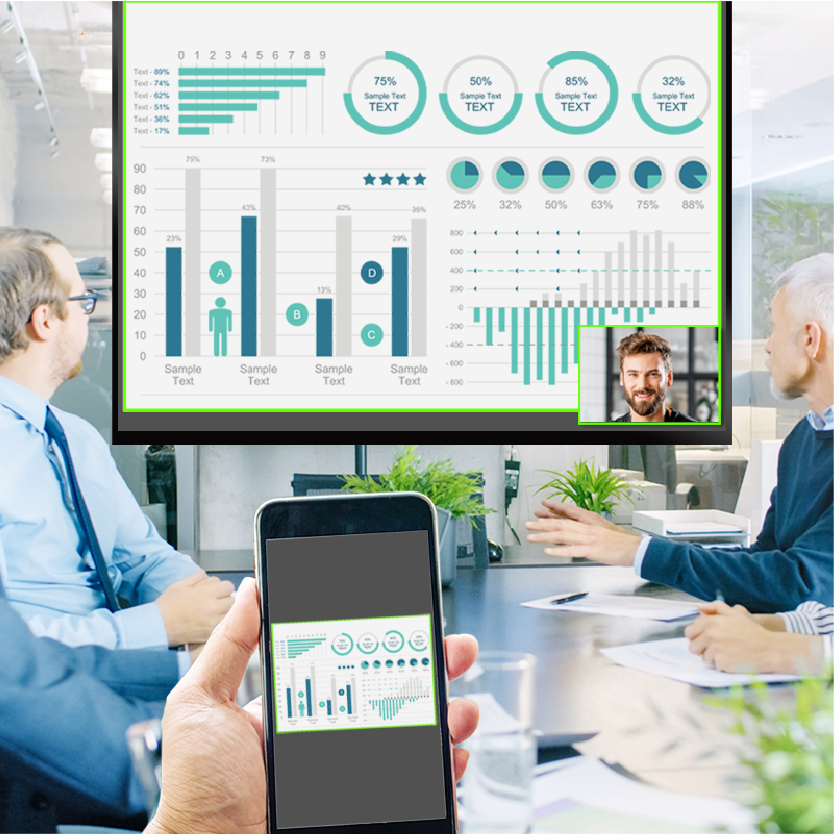 Boundary-Free. Start meetings with remote employees freely and share ideas across the office easily
Video conferencing + Wireless projection
With traditional meeting room boundaries removed, discussions can be held in any space. Furthermore, participants can share files directly from their devices during video conferences.
All Specifications
Display
Display Color
30-bit (1.07 billion colors)
Light Source Life
a. Normal 5000 hrs ,b. ECO 10000 hrs ,c. SmartEco 15000 hrs ,d. LampSave 15000 hrs
Optical
Lens
F/# = 2.56 ~ 2.68, f = 22 ~ 24.1 mm
Projection Offset (Full-Height)
Keystone Adjustment
1D, Vertical ± 40 degrees
Picture
Picture Modes
3D ,Bright ,Infographic ,Presentation ,sRGB ,User 1 ,User 2 ,Video
Compatibility
Resolution Support
VGA(640 x 480) to WUXGA_RB(1920 x 1200) *RB=Reduced blanking
I/O Interface
PC in (D-sub 15pin)
PC in-1 (shared with component video)
Monitor out (D-sub 15pin)
HDMI in
(x1) ,HDMI-1 (1.4a/HDCP1.4)
USB Type A
(x3) ,USB Type A-1 (2.0/Power Supply1.0A/Reader) ,USB Type A-2 (2.0/Power Supply1.5A/Reader) ,USB Type A-3 (2.0/Wireless Dongle)
USB Type Mini B
(x1) ,USB Type Mini B-1(service/Page up&down)
Audio
Audio in (3.5mm Mini Jack)
Audio out (3.5mm Mini Jack)
Environment
Power Supply
AC 100 to 240 V, 50/60 Hz
Typical Power Consumption (110V)
Stand-by Power Consumption
Acoustic Noise (Typ./Eco.)(dB)
Accessories
Remote Control w/ Battery
Warranty Card (by region)
Onscreen Display
Smart System
Wi-Fi Standard
802.11 a/b/g/n/ac (2.4G/5G)
Dimension & Weight
Projection System